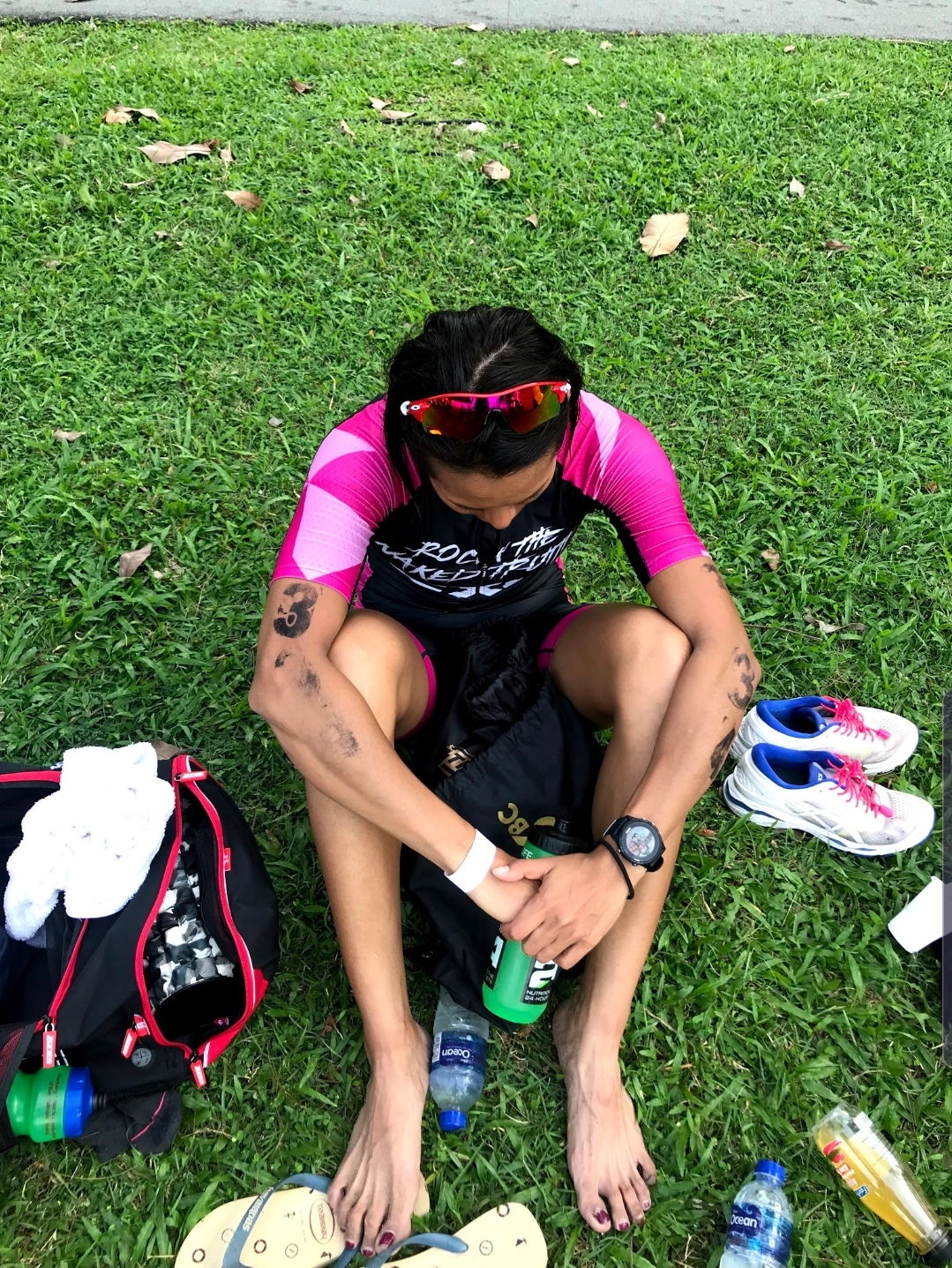 17 Jun

The DNF

They say there's always a first for everything. I signed up for the Trifactor Run-Swim-Run in Singapore on 15 June because I thought it would be a good way to fit in a half marathon in the midst of my marathon training (yes so I've decided to do my first marathon, because why not?). I was actually feeling good about the race.

I've been putting in quite a bit of miles in the swim and definitely been doing lots of running. So I was excited on race day. Ross arrived from Boston the night before at around 6pm and he decided to do the race too, because he's crazy like that.

The distances are 10.5km run, 1.5km swim and 10.5km run. Seems pretty doable. I was confident with my running because in training I've been hitting pretty solid timings (solid for a non-runner of course haha!). My biggest mistake was definitely not training swimming in the open water. My last open water swim was in the Aquathlon 2 years ago.

Setting up the transition area without my bike felt pretty weird. It was just the swimming stuff, water bottle and some energy gels.

The morning of the race started out pretty good. It wasn't ridiculously hot and the breeze from the sea was pretty nice. Ross' race went ahead first, 10min before ours started. The run was great. I was hitting around 4:35min/km pace which was my plan. It just seemed very long. I kept on thinking when will this end. I was second in place when we entered the transition area. The first woman was still in sight.

It didn't cross my mind about how big the waves could be, so I just jumped into the water and started swimming. But I couldn't seem to move because every time I put up my head to catch my breath, the wave came crashing onto my face. I didn't know what to do, so I started to panic. I was just moving my hands and kicking my legs around. It was as though I suddenly forgot how to swim. I was so scared so I swam to the buoys and tried to calm myself down but that was when I started to hyperventilate. There was a lady who stopped and asked if I was okay. I didn't say anything because I was already crying my eyes out. Like literally wailing. The rescue guy on the kayak came over and threw a buoy for me to hang on to. I hugged the buoy but couldn't seem to compose myself. All I could think about was, what the hell was wrong with me. Why was I so afraid?

I calmed myself down a little and then tried swimming again but I just didn't know how to breathe with all the waves in my face. I stopped again. And went a bit more, then stopped again. Then Ross came over and I just started wailing. I felt like such a failure. I was so embarrassed. He said, "I've got you" and followed me all the way back to the shore, waiting for me to complete that one dreadful loop. It took me like 35mins to finish that 500m loop. I knew it was over. I didn't want to get back into the water.

We took our stuff from the transition area and left. While changing at the nearby public toilet, the ladies from the earlier/shorter race were sharing their stories about how fun and exciting the race was. I was just heartbroken. I felt bad that Ross didn't finish his race because of me. I felt awful for not being able to complete that race. But Ross kept saying that the waves were scary and that he's a competent swimmer and that I made the right choice but I was just too tired to argue. Quitting sucks.

I guess there's a lesson from every race and mine was this: SWIM WHERE YOU'RE SUPPOSED TO BE SWIMMING IN THE RACE. Simple. I swam hundreds of laps in the pool but the last time I was in the sea was in 2018. I shouldn't have been surprised that the waves scared the shit out of me.

That's it. My first, and last DNF.