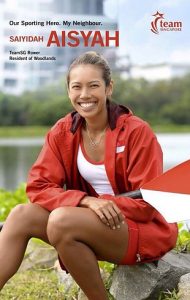 Saiyidah Aisyah Mohamed Rafa'ee
a.k.a Aisyah Gala/Aisyah Rower
Singapore's Olympic Rower.
Aisyah grew up with 4 brothers which she claimed contributed to her competitive nature. Despite being the only girl in the family, she was the most active and passionate about sports, health and fitness.
Aisyah started off her athletic career playing Netball at the age 10 and since then had represented her schools for 8 years, became captain of her school team for 2 years and was selected in Netball Singapore's 15 and Under National Squad in 2003. She also plays football recreationally and loves running.
Aisyah's jobs always revolves around the sports industry where she knew her passion lies in. She was a personal trainer with Results! PT (formerly known as pt.com.sg) and was an accredited netball and rowing coach, too. Her first career was a Physical Education teacher and later went on to become a Student Development Officer at Ngee Ann Polytechnic where she taught the Sports and Wellness classes.
It was only in 2013 when she decided to put her career aside and pursued her rowing goals. She packed her bags and made the move to live and train in Sydney on her own, all on her own expenses. She could not have made that decision without the support of her employers, colleagues, family and friends. It was a leap of faith which she never regretted taking.
Aisyah later went on to clinch Singapore's first individual Gold medal in Rowing at the 23rd SEA Games in Myanmar. Although facing months of injuries and downfalls thereafter, she managed to pick herself back up and reached her ultimate goal of qualifying for the Rio Olympics. Aisyah made history again by being Singapore's first rower to qualify for the Games.
Aisyah also became the first rower to receive the SpexScholarship offered by the Singapore Sports Institute to provide financial and programmatic support to prepare athletes to excel at the Major Games.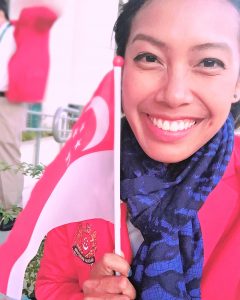 "When you have a dream, work hard to get there and don't ever let anything stop you from achieving it. Most importantly, believe."
-Saiyidah Aisyah