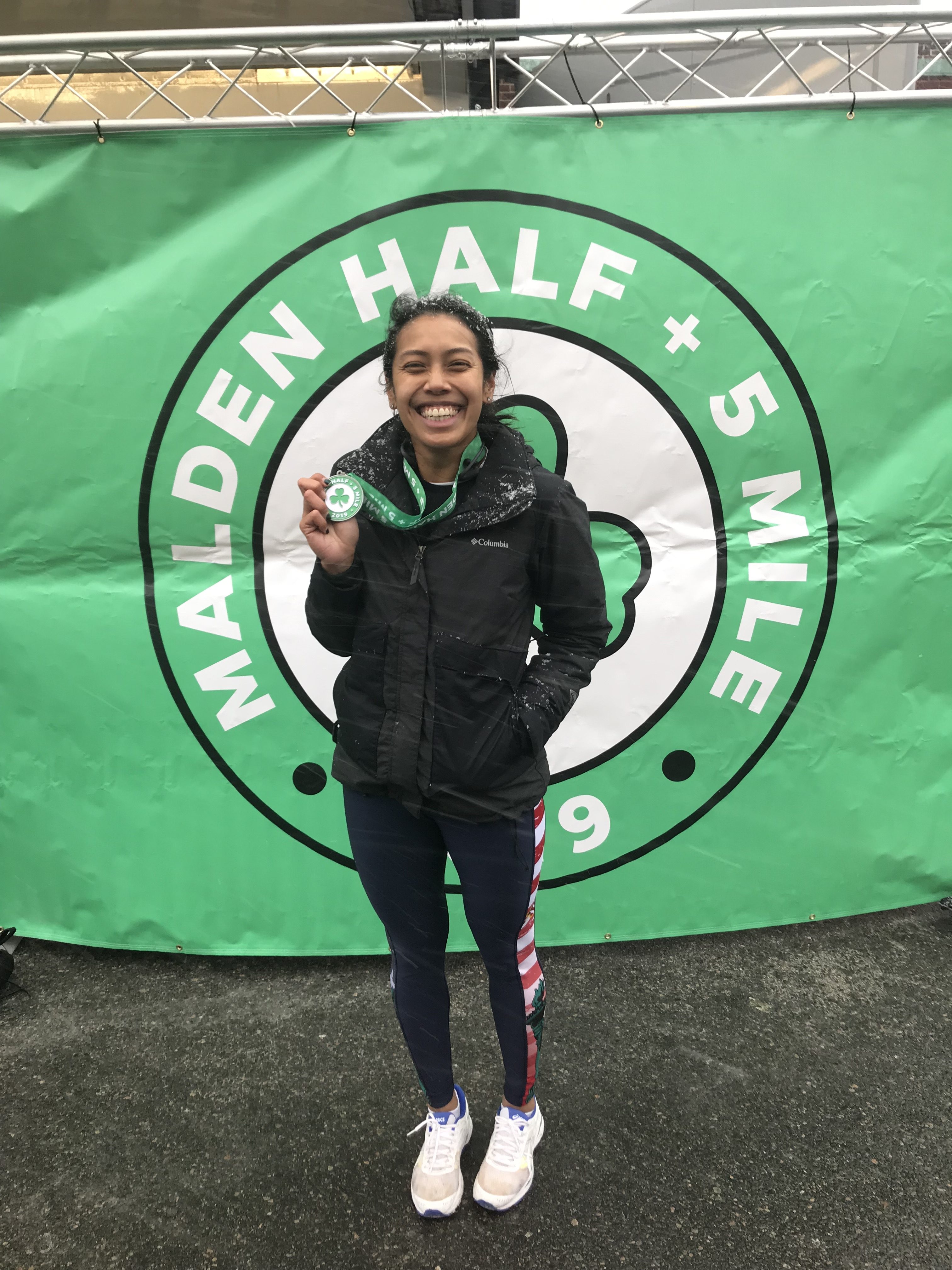 23 Mar

The Malden Half

I told myself that I needed small goals in life to feel like there is a purpose in living each day. So, I set myself a goal to beat my PB of 1:53hrs for a half marathon. 1:53hrs was set at the Standard Chartered in Singapore in 2014. I remembered how torturous the race was and the heat and going round and round in Sentosa and finishing with a medal I can't even remember where I kept it but with a promise to myself that I will never do a half marathon ever again. I remembered carrying my phone on my right hand throughout the whole race not changing hands that at the end of the race,  I couldn't move my shoulder and later found out that I had developed tendonitis.

On March 10 2019, I found myself breaking that promise as I stood at the start line at the Malden Half in the freezing morning. The night before the race, I almost decided that I didn't want to do it because I wasn't ready. I have been following a half marathon programme that I found online but I was in Ottawa for the past few weeks that it had been too cold to be running outside. I experienced my first snow storm at one point and spent the entire 2 weeks on my own in the middle of nowhere with a dog and a cat as my loyal companions. Thankfully, there was a treadmill in the house. But somehow, the treadmill was in the bedroom and it was facing the bed. My back was towards the windows. And somehow, I managed to deal with that.

The longest run was probably 70mins on the treadmill maybe? There were a few 60mins days. They were incredibly hard. It is so painful to just stare at the bed for 60mins. I did my runs according to the programme that I found- there were some intervals, some "hill sprints" that I managed to simulate by increasing the incline of the threadmill and a few steady state long runs. I try to break down those long runs into pieces. Honestly, it was mundane but incredibly, somehow, I managed to push through all that to put in some decent mileage on that machine.

The longest run I did before the half was probably a 75mins run in Boston. I was far from being prepared for the half marathon. But Ross kept on saying that have the ability to push a pace and maintain. I don't know where he gets this idea from that I may be good at long distance running but hey, you'll never know if you don't try.

So it was like 1 degrees that race morning. I tried doing some warm up runs but the roads were icy and slippy! There weren't as many people as I thought there would be probably because of the weather and also there was some fkd up shit that happened with the race planning. So, the story is that the race was advertised as a scenic route along the Fells, which is apparently very pretty. But about 2 weeks from the race, the organisers said that they didn't gain the permit to hold the race on the proposed course so it was changed to a loop around the city Malden, which isn't a very exciting town, and half marathoners have to do the loop 5x. Runners were given a chance to race the 5mile instead and I was tempted to do the 5miles but 5miles is such a random distance, tbh. It isn't like a 10km, you know?

So, yea, 5 rounds of 4km and a little bit more at the start and at the end. We also later found out that the racers who registered after the news that the race course has changed broke, had the fees cheaper than the early birds. I know, really dumb. Ross was really mad and tried to contact the organisers but instead of owning up to their mistake and handling the situation professionally, they were being very mean and sarcastic about it. And it bothers me that they are like this because the registration fee is $80, mind you. Never again from this organiser. This will be my first and last.

So, there I was at the start line, just hoping that I would be able to maintaining a pace below 5:00min/km. Ross told me to aim for a 1:40mins. That would give me a 4:44min/km pace. I felt okay in the first 3 laps. It helps to see Ross handing out water at one of the stations so it gave me some kind of motivation or something to look forward to on each lap. And then the 4th lap, I just kinda slowed down. It came suddenly, my legs felt heavy, I was so tired, it felt as though I was dragging my feet. I couldn't even bring myself to smile when I passed Ross.

The last lap, I managed to pick up again. My feet were hurting, my hips were so sore and I know that my shoulders are already beyond fkd up. I picked up speed towards the finish line as though it would make any big difference to my life and  for the next 15mins or so, I was just so out of it. I remember not being able to stand still, I wanted to lie down but my head hurts when I did, I tried to drink or they had bagels or donuts or something like that and I just couldn't bring myself to eating or drinking anything. It wasn't like a 2km erg test pain. It was a different kind of pain. Either way, both aren't pleasurable.

1:37.9. That was the time I took to finish that bloody half marathon. I also got a huge blister on the sole of my foot which later Ross insisted that I poked it. I couldn't walk normally for the next few days and my legs were sore for 2 weeks at least.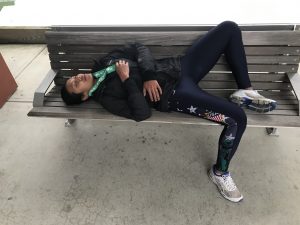 (Oh and of course, right after I crossed that finish line, it started to snow heavily!)
I guess I won't be making anymore stupid promises to myself like not doing a half marathon ever again because I forsee myself doing several more before I die. I don't particularly enjoy it but I guess if I want to do a half Ironman or an Ironman, I have to learn to start loving it.
I didn't regret doing the half marathon because I did perform a PB and it feels good and kinds worth it but is it really? It's amazing what I didn't know I'm capable of sometimes and this curiosity is going to be my main source of motivation to set more smaller goals in life.
Next time, I'm definitely going in more prepared by actually doing more long runs. The blister on my foot may also be a sign that I need new running shoes, like a new type altogether, but I've been so loyal to the Kayanos it feels wrong to even think about trying on another pair of running shoes. And my shoulder- I definitely need to work on that running gait and not holding my shoulders up.
Now that this is done, what's next for me to conquer?