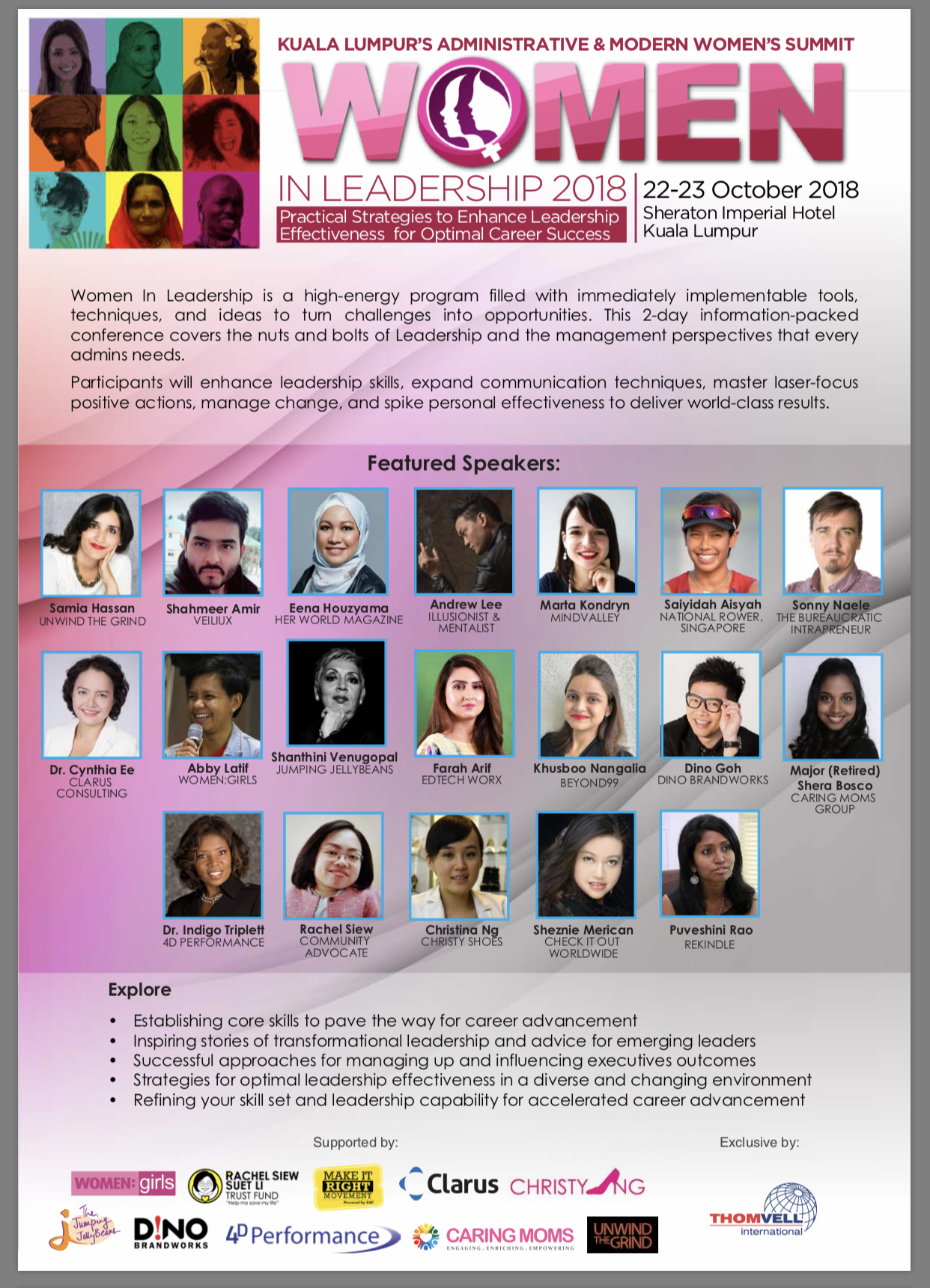 07 Nov

Women in Leadership Summit 2018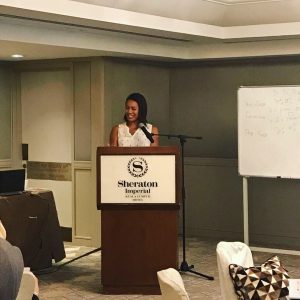 I was invited to deliver a speech at the Women in Leadership summit in Sheraton Hotel in Kuala Lumpur, Malaysia on 22 Oct 2018. It was indeed an honour to be recognised beyond the borders of Singapore. The summit was about "Women in Leadership" but to be honest with you, I never saw myself as a person in a leadership position. I always see myself as someone who loved my sport and was lucky enough to qualify for the biggest game in the athletic world but never as a leader. Humble, you may say. But really, I don't. I never really have experienced any gender biasness in my journey as well, except for when I was growing up and I had to do all the household chores when my 4 brothers were not expected to do them. I never really thought I was treated unfairly because I was a woman. In fact, sometimes, I think being a woman gives me an advantage because we are so much better in many ways than men, but I'm not a feminist, you see. Just a believer in the strength of a woman. 😉
Back to my speech, my manager decided to call it, "Self-Motivation and Personal Leadership: Lessons from an Olympic Athlete." I have told many stories on my Olympic journey one too many times so this time I challenged myself to tell my story and how it can relate to not only life but to business as well. It was hard because I know very little about business or being an entrepreneur and the women I was going to talk to are probably successful businesswomen. So often while trying to piece up my speech together, I kept asking myself, "who am I to say these things to all these women?", "why would they want to listen to me as compared to the other speakers who are founders and CEOs of companies who probably have more to offer than an athlete?"
Preparing for speeches is always a lot of work because you need to know the audience, you need to try to be on point and bring across the message clearly and effectively, you also need to grab their fullest attention, find the right videos and photos, and on top of all that you need to be entertaining. But I always enjoy picking the right photos for my slides because it makes me go through all the photos of my rowing career I have collected throughout these 14 years. Sometimes, it makes me resort to shamelessly Googling myself because I don't know how but the internet has some photos of me I don't even know existed. The best part of preparing for speeches, although with a bit of time wasted because I often get distracted, is reading through my old diaries and journals of those yesteryears.
It reminded me of how much I really wanted that Olympic dream, it took me back to those days when nothing else mattered but just one goal. I was such a determined human being! It served as a good reminder to myself that belief, hope and lots of hard work will bring my success one day, even when no-one else saw that coming.
Anyway, the talk went well. 35mins of pouring my heart out, holding back my tears at some points, even though I've went through that speech at least 10 times. Some days in my life, some precious moments still has the ability to tug on my heartstrings, or perhaps I'm only just a very emotional person. But I know it went well because when I spoke, the room went silent, everyone had their eyes and ears open, attention was glued to me, heads nodded or shook in disbelief as my stories unfolded. After the speech, these amazing women who have spent the past 35mins with me came up to me with open arms to hug me, take selfies with me, give me their warm wishes, telling me that my journey is inspirational. Some took time to share with me their personal journeys. And with that, I know my job there was done.
I never see myself as a leader in what I do. I just see myself as someone who love what I'm doing and I'm grateful that I'm pretty good at it. Thank you, Thomvell, for inviting me to give that speech. Thank you Sheraton KL for the amazing hospitality. Thank you, to every woman who attended the summit and gave me your attention. It meant a lot to me.
x