17 Oct

RELAX. REFOCUS. REFRESH.

After completing my first ever triathlon in August, I left for UK, in search for a rowing club. However, I wasn't sure yet if I wanted to coach or train or both. Then I realized that until I made up my mind on that, I am not able to find any club yet.

These past few travels that I've made this year have been done in a haste, without much planning. I love spontaneity but being spontaneous costs a lot of money too.

Gone were the days where flights and accommodations were paid for by my scholarship. That is one of the reasons why it was so hard for me to withdraw myself from the scholarship program. I mean, who doesn't want free travel?

But I think I've done enough wondering andpondering, I've made up my mind, and when I make a decision, I have to commit to it. So, here I am, committing to the fact that from the day I withdrew from the scholarship, all my travel expenses will be borne by me.

Anyway, there was definitely a blessing in disguise in my trip to UK which was supposed to be in search of a rowing future which eventually became one that made me realize that, you know, maybe I really needed time away from rowing. For a period of 3 weeks, I did not touch any oars, any boat, any rowing machine- nada. I used to feel guilty for being away for such a long time away from the boat but to be honest, it actually felt pretty good. And since I was already in Europe, I decided to do a random Italy-Croatia road trip with the bf. The cheapest flight we could find from UK was to Venice and so we decided to fly down to Venice, hire a car and drive to Croatia, take a ferry across the sea, back to Italy and drive back up to Venice. It was planned within a few hours and our trip was supposed to begin in the next few days. Talking about spontaneity!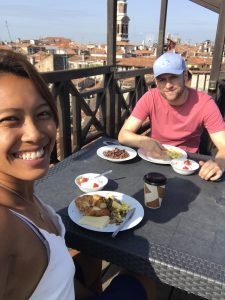 Breakfast overlooking Venice
It was probably my first trip in a very, very, very long time where I didn't had to think about training or competition. I spent my mornings and evenings going for a run or swimming in the Adriatic Sea. The water was absolutely gorgeous. It is interesting to see how my body changed when I stayed away from rowing and hitting the gym. My quad definition were almost non-existent and my back looked as thought they just melted back into my body. Rowing definitely has made me strong and muscular.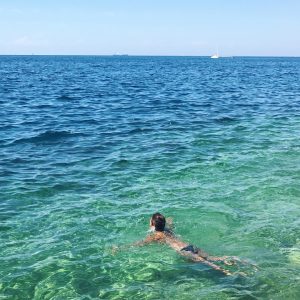 An afternoon dip in the Adriatic Sea
When I came back from the trip, I found myself back on the boat, but more in a crew boat because I've decided to represent the local rowing club, Easter Rowing Club, in an upcoming regatta in Hong Kong, but decided not to do the single sculls. I knew then that I'm not done with rowing- not yet. I still crave for it. It's a strange feeling of not wanting it, but yet wanting it at the same time. (Am I just confused or is having to deal with this conundrum normal? I have yet to find out.)
It's nice for a fresh change- rowing with the masters ladies doesn't really push me physically but whenever I'm in the boat with this amazing 30, 40, 50 year old ladies, I question myself, "what will I be doing when I'm at that age?" "Will I still be rowing?" "What is it about rowing that keeps them coming back for more?" It makes me think back to why I started rowing in the first place, find out what makes the sport so addictive and most importantly, why isn't more Singaporeans picking it up???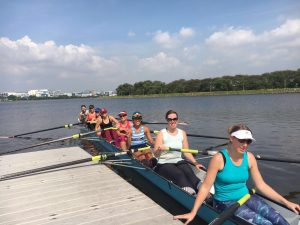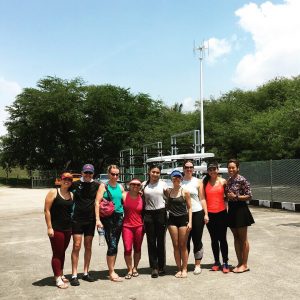 ERC's first ever women's 8s
That's my next aim: to have Singaporeans try out the sport and spread the love for rowing.
Wait for it, guys. Good things are about to head your way. xx