09 Aug

ONE FOR THE BUCKET LIST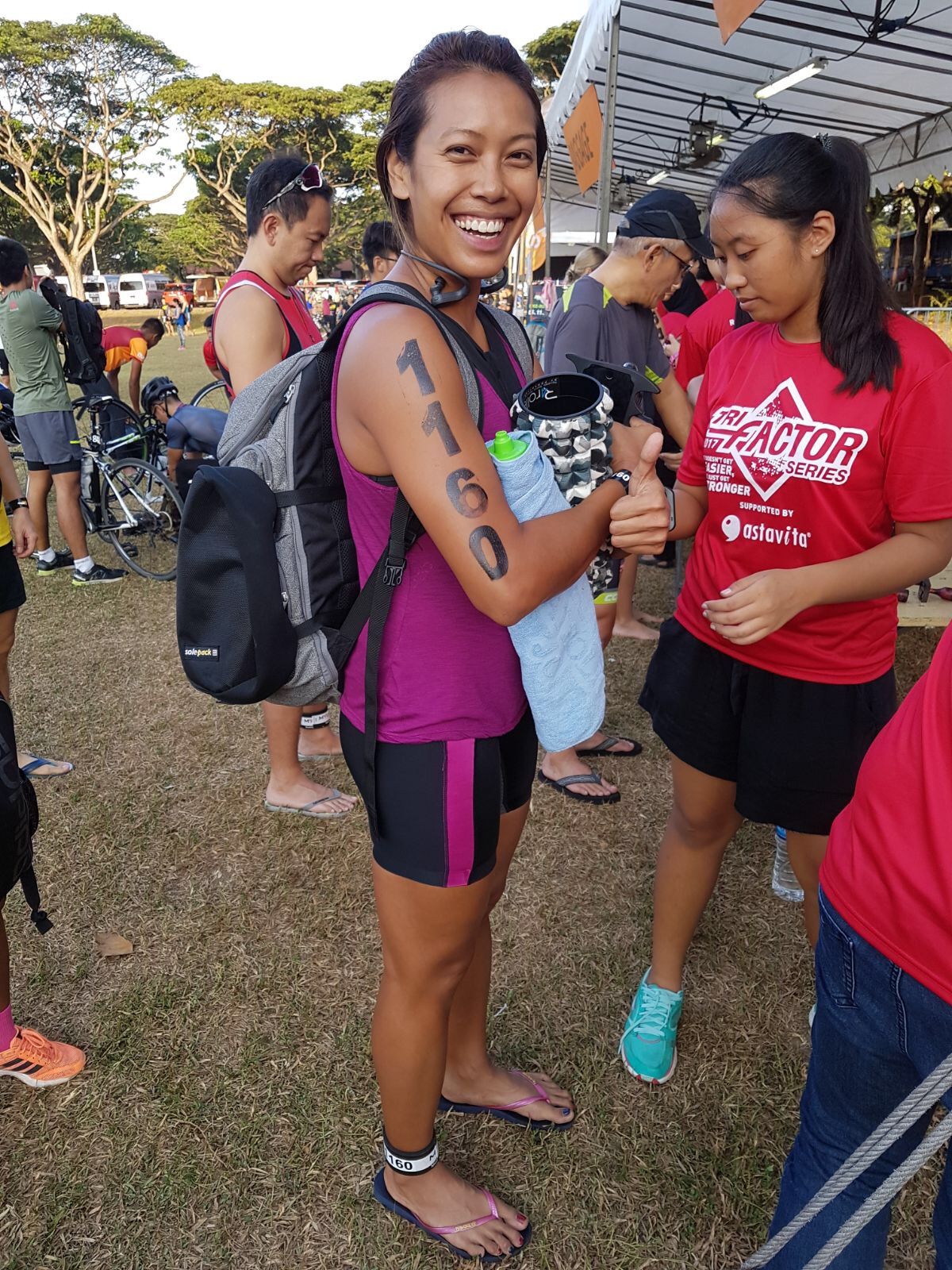 (Warning: long post ahead. If you could complete a sprint tri which takes around 1.5hrs, I'm sure you could make it to the end of my post)
So yes, I did it.
After one month of following a random training program I found on Google and teaching myself how to swim freestyle from watching YouTube videos, I completed a sprint triathlon event at the recent Tri-Factor Triathlon series.
I guess I am pretty pleased with my results. I mean, coming in 8th in the Women's Open Sprint with one month of training doesn't seem that bad for my first tri ever, does it?
And because I wished I had a thorough description of how my first rowing race went, I promised myself that when I'm done with my first tri, I will write a detailed recollection on the whole experience. So, here goes.
Pre-race prep:
I checked my bag twice the night before. I had a packing list which I went through. I cannot be anymore prouder than this. I read about how you have to carbo load for an endurance event. I don't think it applies to something short like a sprint but I ate a whole plate of pasta hoping that it will do me good for the race even though I wasn't hungry at all.
Race day morning:
My race was scheduled to flag off at 9am but I was awake by 5:45am and left home at 6:15am. I went there early because I am a mega kiasu person, can't you tell? As expected, I was so nervous I couldn't eat. I nibbled on a carbo bar on the way to East Coast Park.
Transition area:
During the multi-sport simulation clinic that I attended, the Tri-Edge team gave us an idea of what a transition area should look like and how we should place our items. I swear my transition area looked like I was going to having a picnic: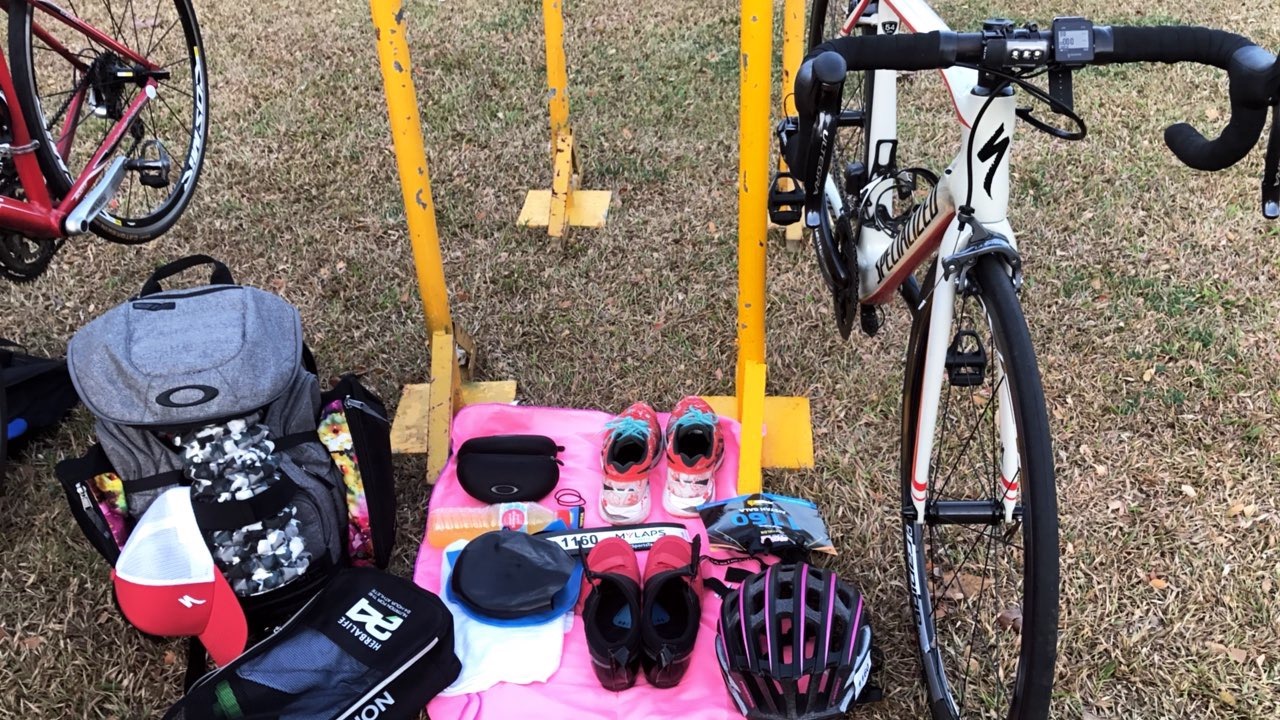 Warm up:
So I had no idea what sort of warm up to do so I rolled out my muscles a little, did some dynamic stretches (similar to rowing) and went for a swim- probably around 50-60 strokes? And then I hung around at the start line, trying look all cool and hip in my cap and goggles (but I swear I can't pull off the cap and goggles look).
Start line:
I didn't expect the emcee to call out my name and interviewed me before the race. I already had my game face on and he distracted me while I was already in the zone.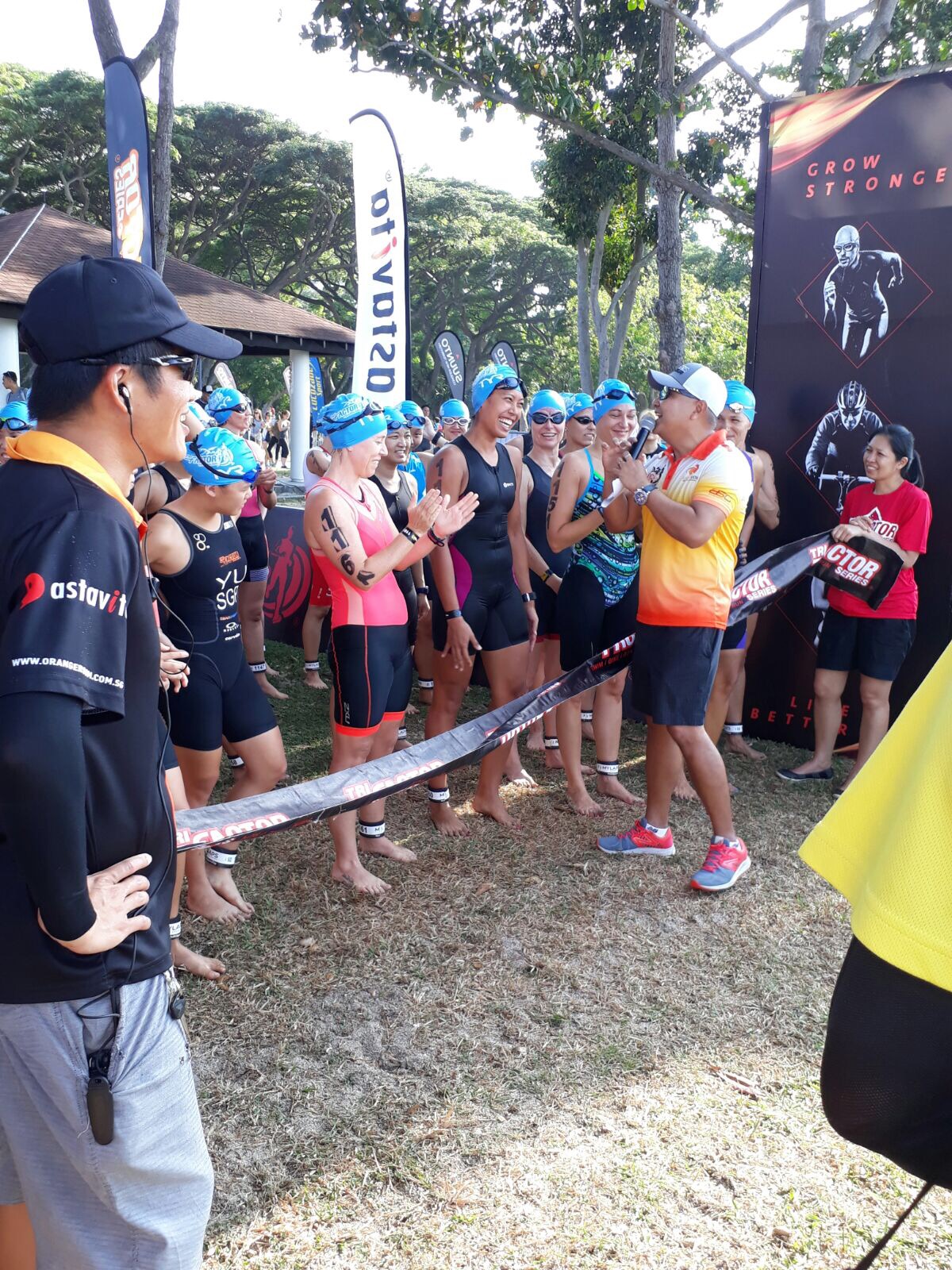 I was nervous but I kept reminding myself that I've been to the Olympics. This should be EASY. But what made me worry was the fact that I didn't know what to expect. I didn't know when the pain would seep in. I didn't know what could go wrong. Not knowing scares the daylight out of me. But once the horn went, I wasn't afraid anymore.
THE SWIM (750m in 27:31 mins):
The pros were saying that the current was pretty strong that day and the swells were relatively big. (I had to put that in because my swim time was so slow I might have as well lied on my back and let the waves take me around the course- that would have been faster than me swimming). To be honest, I was pretty relaxed during the swim. I expected myself to panic but I didn't. I had all these limbs touching my body and rubbing against me but I just kept on swimming. Sighting was a bit hard in the waves but I just swam. I just wanted to finish the damn course.
Swim to Bike (2:21mins):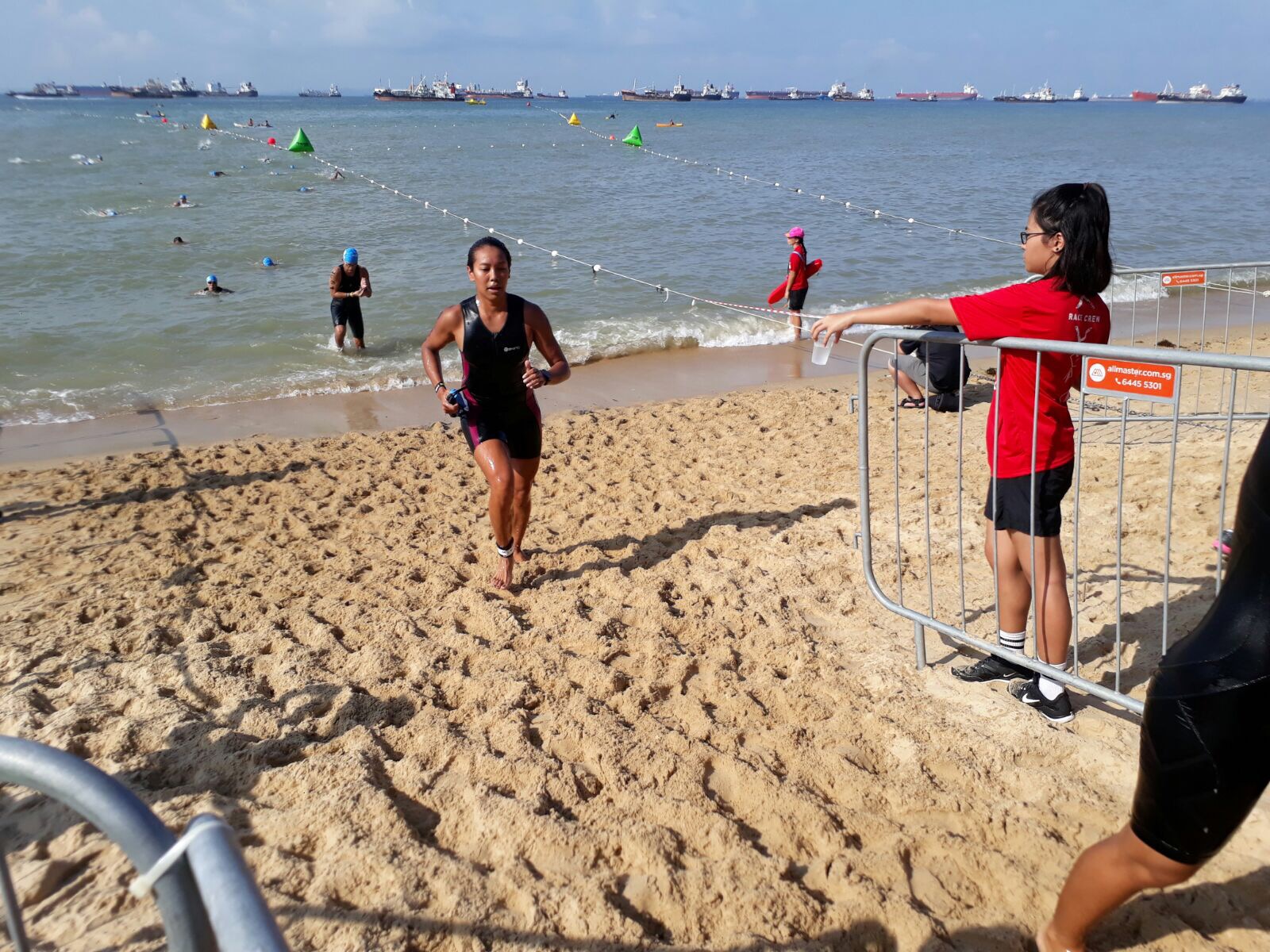 I'm not really sure what's a good transition time but my mum said when I came out of the water and ran to the transition zone, my face was dead serious.
I did practice walking with my cleats but did not think that the bike mount area was pretty far from where my bike was parked that I had to run in my cleats. For a moment it felt like I was in a heel-running competition. If that wasn't hard enough, what was worse were people who were WALKING and pushing their bikes, blocking my damn way. Oh mother of bikes, WHY DO YOU WALK IN A RACE? (Take it easy and have fun, they say. GO ALL OUT AND WIN THIS, my heart says. HAHAHA! I can't help being competitive #sorrynotsorry)
Bike (18km in 34:07 mins):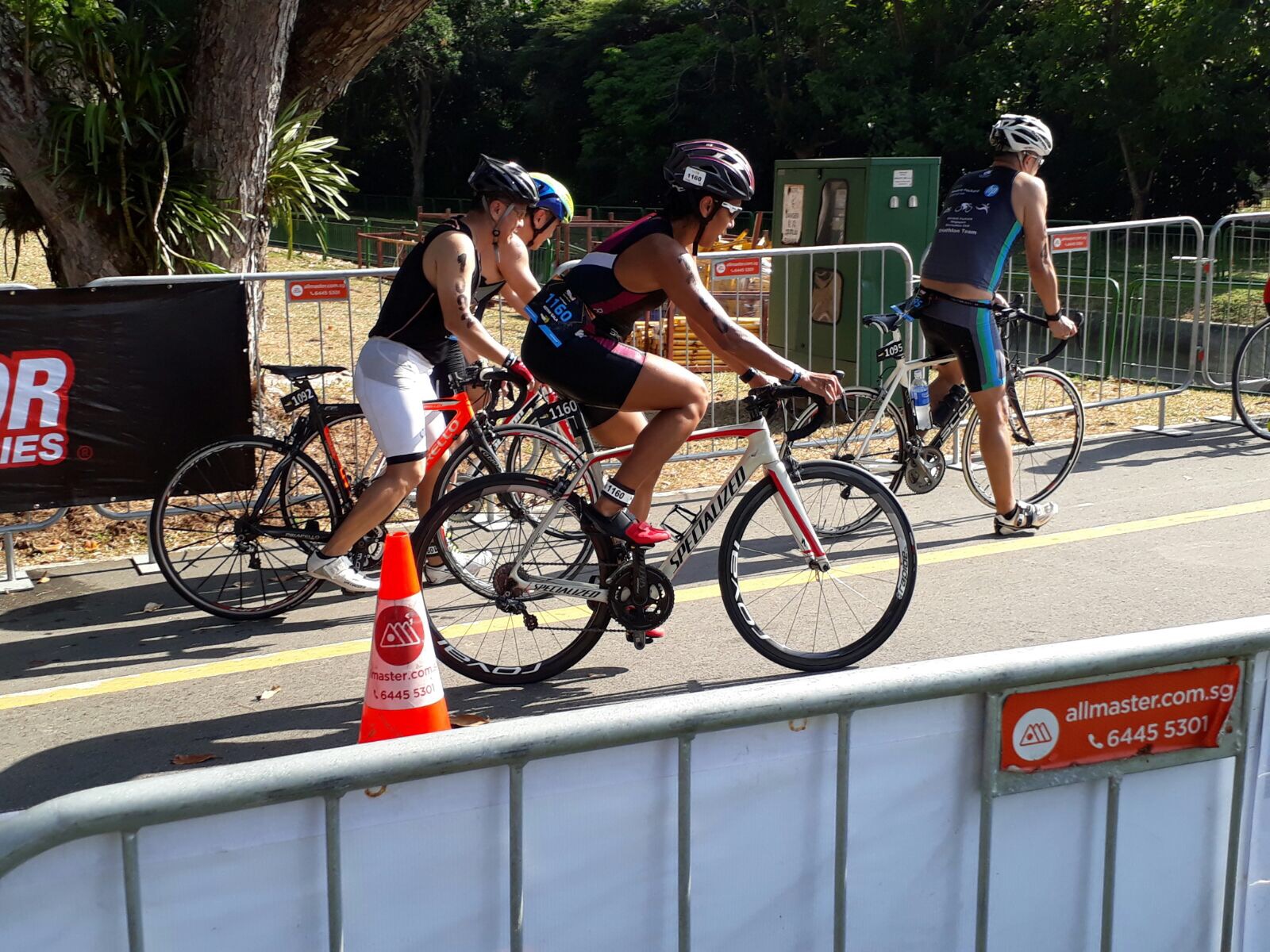 To be honest, 2 factors made me go fast in this leg of the race-
Knowing that I had a pretty good looking bike (THANK YOU, SPECIALIZED) and
Had VeeJay spent 3 hours fitting me on the bike
There is absolutely no way I can't go fast on this beauty of a bike- I cannot let the Specialized Team down. The course was absolutely flat but pretty narrow in some areas so I had to shout "ON YOUR RIGHT" several times and it secretly made my heart fill with pride because it made me feel like a pro for a bit. Cheap thrills.
Bike to Run (1:51 mins):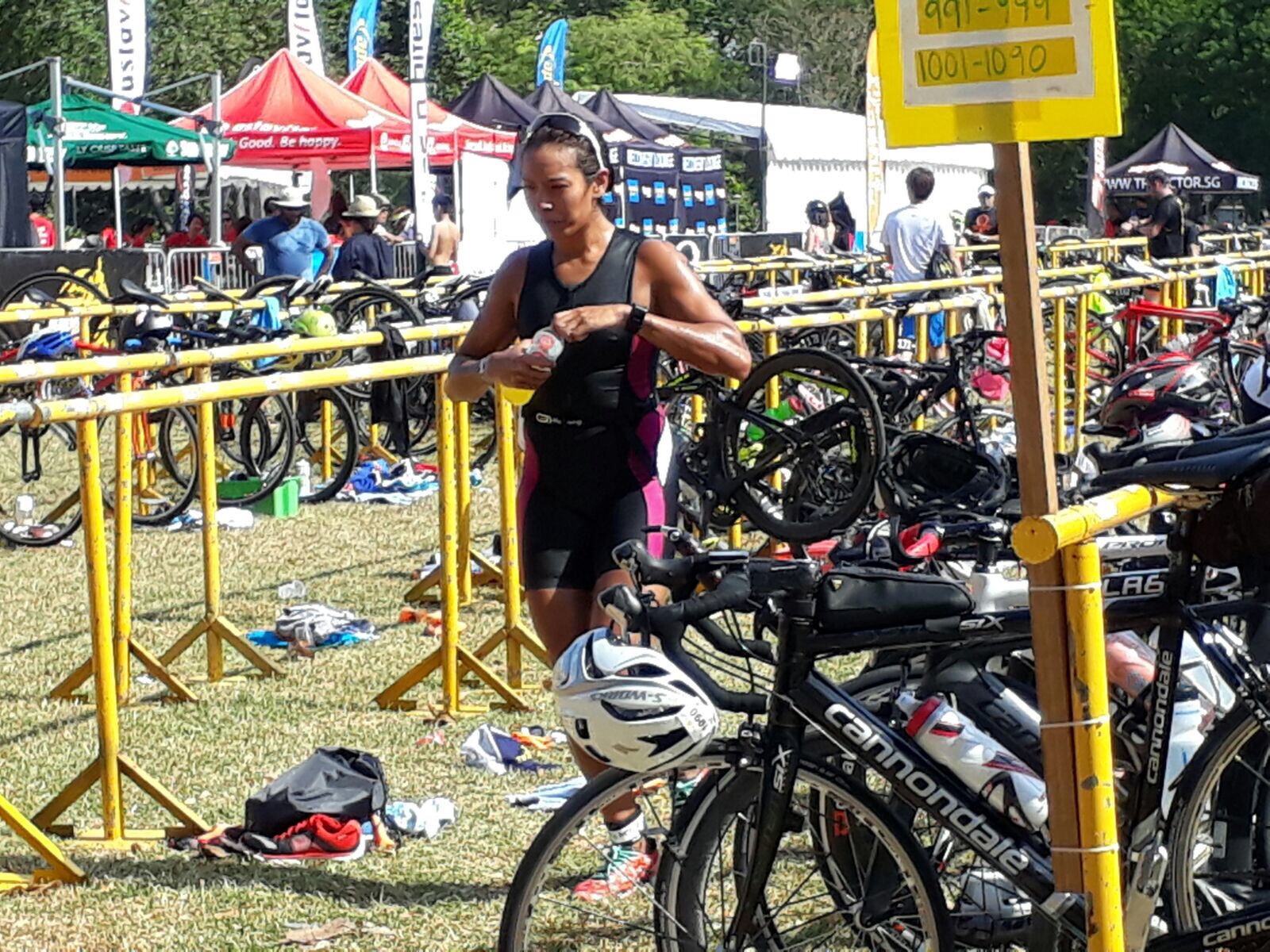 Don't remember thinking about anything significant other than OMG MY LEGS. ARE THEY STILL THERE????
Run (5km in 26:17 mins):
It was absolutely scorching during the run and I was so tired. I tried to push myself a bit more but my legs would not co-operate. I told myself that everyone is probably feeling the same.. I did not even attempt to sprint to the finish line. I was done.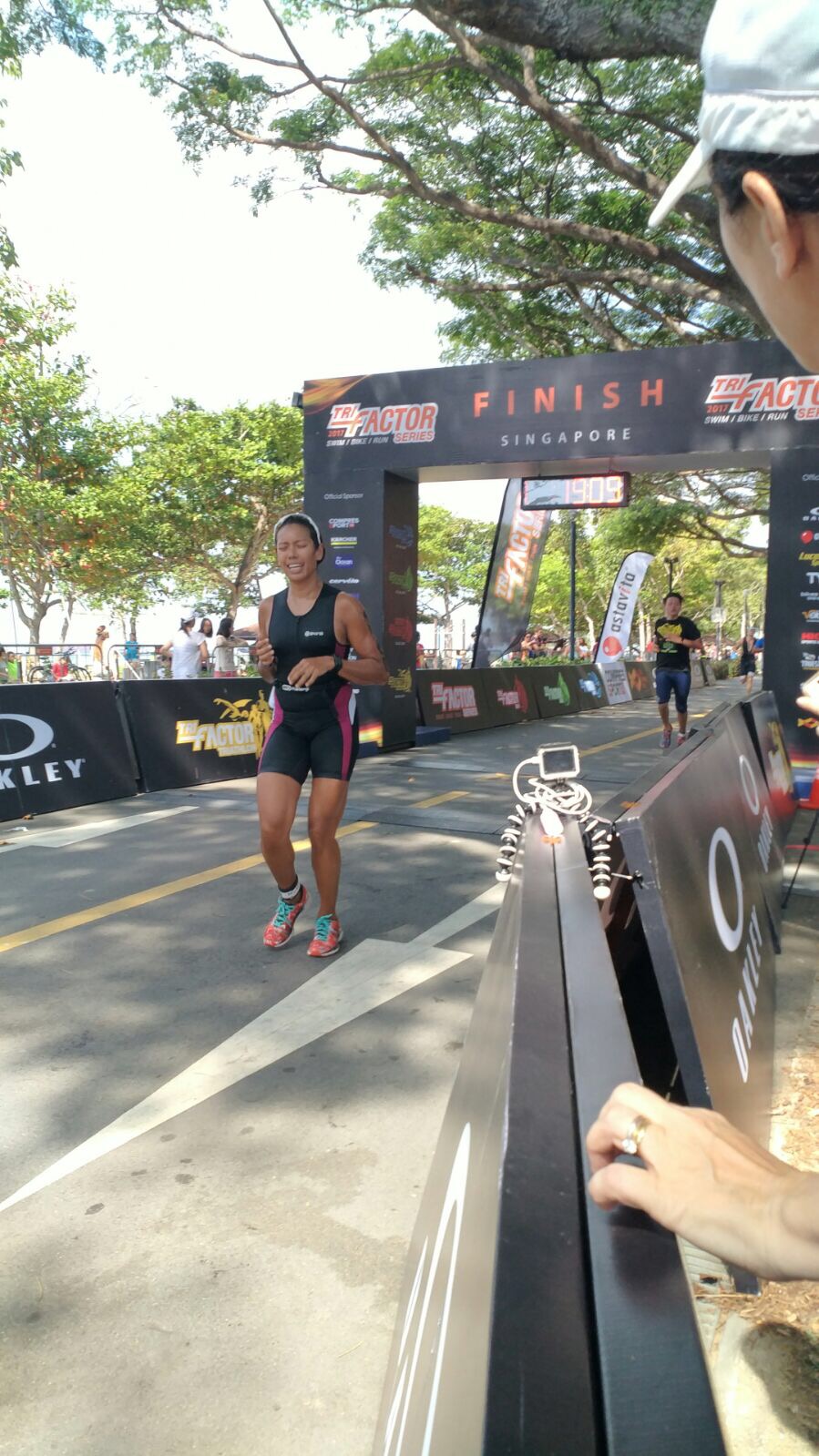 Total time: 1:32.06 hrs 
Post-Race:
I was immensely relieved that I completed the race. It was hard, I must admit. My feet were blistered and bleeding from running without any socks. I must have been so dehydrated after the race that my head was spinning for the next few hours, but otherwise, I slept like a baby that night. I felt okay the following day (Monday) that I was capable of going for a light row in the morning. I was about to applaud myself for having one hell of an amazing recovery system when reality hit me on Tuesday. The lethargy started to seep in on that day that I didn't want to do anything for the rest of the day.
This whole tri journey started off with picking up some swimming lessons in Sydney, with the determination that I will complete my first triathlon there before I left. Unfortunately, in February, I fell off a bicycle and dislocated my shoulder. I have never spent so much time on the bike in my life for the following 3-4 months.
In March, I dislocated the same shoulder again while washing my hair. Strike two, life says. One more and I'm out. I couldn't swim, run, lift- nothing. Just the bike, Netflix and me.
In April, I had my first jog in 2 months. I was so excruciatingly slow.
By June, I was running almost everyday.
In July, I was in Singapore and chanced upon the Tri-Factor and told myself that maybe it is time to do this. I only had one month to train for it but it didn't cross my mind that noone gives themselves one month to prepare for a triathlon. Some take months to prepare for their first triathlon, others years. I emailed the organizer to ask what kind of support they can offer to a complete noob like me. They welcomed me with open arms. I started my first proper swimming training and attended their race clinics which served to be very, very useful for first-timers.
I didn't had a bike so I dropped an email to Specialized Singapore and they replied. Two years ago, I couldn't even afford a single cycling bib and I'm using Dinah's second hand bike and gear. I have outgrown her bib and my former teacher came forward and offered to buy me a set of cycling jersey and pants. Now, I have at least 4 sets of bibs and jerseys of the most amazing colors in my wardrobe, 2 pairs of cleats, 2 helmets and 5 pairs of bright-coloured fancy socks from Specialized. The support from the Specialized team has been nothing short of amazing. I'm not even obliged to mention them in my social media posts but when you work with amazing people, you just want to willingly share the good stuff. I have learnt so much about cycling and also realized that there are people out there who are always ready to help, if we take that first step to reach out for help. And the bike- oh the beauty! The thought that it has been meticulously fitted to no-one else but me gives me a we-are-meant-to-be-together-kind of feeling. And it is bloody fast and I absolutely love it. (But it is fast also because of the cyclist, no? HAHA. I have to give credit to the hours of cycling I did when I dislocated my shoulder!). I am always looking forward to the net bike ride after I'm done with one- Is this how an addiction begins?
Even thought my swim was ridiculously slow, I am pretty amazed at how I managed to finish the whole course using the freestyle. The waves don't scare me like how they used to and I feel more confident cycling on roads now. (Also thanks to my training partner, Fahmy, who has been dealing with my whinings.)
To be honest, coming back to Singapore, I didn't expect myself to complete a triathlon. But thanks to me and my big mouth, when the news reported about my "transition" to trying out tri, I knew there was no turning back. I didn't plan for this to happen, but I'm glad it did. I guess sometimes things don't go your way because better things are coming your way. I have learnt so much from this journey, albeit a short one. But who knows what the future holds for me in this sport. I have made new friends and created new adventures for myself. I have faced my fear head on, telling my fear of swimming in the sea and cycling on the road to shove it and move along. I was afraid of being such a noob that I was going to embarrass myself in the clinics and the race but there were other noobs as well and I later realized that it is perfectly okay to be a noob at something. The beauty of being a noob in something is that everyone is willing to help a noob and share their story of how they were once a noob too. I love it!
I've always thought triathletes are a bunch of crazy people with too much time in their hands that they choose to do three sports when I am here trying to grapple with handling one (i.e. rowing). And the truth is: they are indeed a bunch of crazy people. But so far, I've not met a single triathlete in this journey who is not willing to share a tip or two, a word or advice and an encouragement. "Welcome to the triathlon family" they all say. Yes, you crazy people. STOP BEING NICE TO ME ALREADY SO I DON'T GET ADDICTED TO THIS!!!!
Thank you to those who have made this journey happen. This may not the Olympics, but it's not everyday that you get to complete your FIRST triathlon. There is always a reason to celebrate. Don't be a nehneh and be so nasty about someone else's success, no matter how small, can?
Thank you:
ASICS Sg
Herbalife Nutrition
Specialized
Oakley
Solepack
The Swimming Room
Tri Edge
Orange Room
Tri-Factor
Rock The Naked Truth
Fitness First (and Jaime, the tri instructor)
my training partner, Fahmy
and my crazy tri friends: Arib, Ali, Steen, Wilson, Mariam, Cheryl, FREDDIE!, and to everyone who has inspired me in one way or another
and my family for coming down to support me on race day 🙂
If there was one thing I've learnt from this whole experience, it would be not to let fear stop you from becoming who you are meant to be. x