24 Jul

My First Ever Open Water Swim

The organizers of the upcoming Tri-Factor race organized an open water swim clinic last Sunday at East Coast Park, which was thankfully cleaned up after an oil spill a few days before that.

I was pretty excited for it and scared sh*t at the same time. I have to admit it was scary. The last time I was in the open sea, I had a surf board smashed into my face and broke my nose, fractured my orbital bone and tore my retina. Since then, I have always been fearful of the open sea and waves.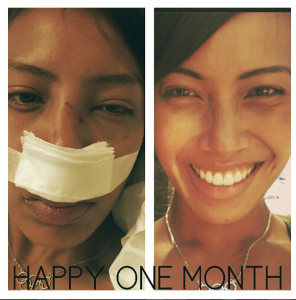 Here's my nose on 4 Oct 2013 and on 4 Nov 2014
So, for me to step into East Coast Park the other day was a feat. I guess what made me feel okay was the fact that I wasn't the only one who was afraid. It's always good to know that you're not the only one who's a complete noob.
The Swimming Room conducted the open water clinic that day and the instructors were really good, so I guess that helped too. I has some freestyle/front crawl swimming lessons in Sydney- a total of 4 hours- but that was in January. When I dislocated my shoulder, I haven't been swimming for 5 months. So how did I get back into the pool after a long hiatus from the water? Like the Malays say, you just have to "go jer, don't scared." Also, I have to give credit to YouTube for the unlimited resources of swimming videos they have!
Some lessons I've learnt from swimming in the open sea:
The water will enter your mouth whether or not you like it so be prepared for salty mouth and being thirsty af after the swim.
You actually float better in the sea which is supposed to make it seem easier but not when you take into consideration the waves and current.
The water at East Coast is so dirty you cannot even see your hands in front of you in the water so you don't have to worry about seeing gross stuff at the bottom of the sea.
The scariest part about swimming in the race is the PEOPLE. Their hands and feet are like evil monsters lurking from the depths of the sea trying to grab and pull you down. AVOID PEOPLE AT ALL COSTS if you're a noob like me.
Learn to sight- which is to lift your head every few strokes to see where you're going.
Don't kanchong.
All in all, we swam about 300m that day in total and I was stuffed. HAHAHA. I really don't know how I am going to survive a 750m swim on the actual race day, followed by a bike and a run.
Do something that scares you everyday, they say.
Now, that it's official –> (http://www.todayonline.com/sports/spore-rower-aisyah-race-tri-factor-triathlon) This is it, guys. 
x