13 Jul

If you don't ask, the answer will always be no.

So if you didn't know the 3 simple rules of life, I'm going to share them with you now:
If you don't go after what you want, you will never have it.
If you don't ask, the answer will always be no.
If you do not move forward, you will always be in the same place.
If you're wondering what makes me achieve some stuff in my life, these are the 3 things I live by. I'm not saying I've achieved great things in my life but at least I know if I were to die tomorrow, I have lived quite a fulfilled life and will be quite pleased with myself.
So adhering to my life rules, I dropped a message to Specialized Singapore to ask if they're willing to help me deck me out with a bike and gear for me to train for my upcoming tri. This tri thing has really start to become a pretty big deal (to me). Having had mentioned it in the media and several times in this blog and my FB and IG, and now that companies and individuals are coming forward to help me prep for it, there is no turning back.
Even though I was so tempted to call it quits a few days ago when a friend called me to tell me that I'm crazy to give myself only 1 month to prepare for my first tri. I told him I've been preparing for this my whole life. Just kidding. But it is true that I only started training for it last week and the race is in 3 weeks time, but my aim is (this I have to emphasize) to complete the race. But I understand his concerns, especially the swimming part knowing that I'm not a competent swimmer and swimming laps in the pool is not the same as swimming in the sea, but isn't tri designed for crazy people?
I'm actually quite surprised at the amount of support I'm getting from the community with my decision to sign up for tri. There are questions thrown at me as to why I decided to do this and the truth is simply to face my fears.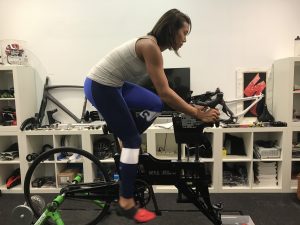 So back to me asking Specialized about helping me out, they said yes. And today I went down to their office at Bukit Pasoh and had my first bike fit ever. It was so interesting how detailed it was and how minute changes makes a whole lot of difference to how I feel sitting on the bike. The more I learn about cycling, the more I feel that it is similar to rowing. How it is predominantly a lower body sport but your upper body position affects the power that translates to your legs- exactly what rowing is about. And how precision matters. I've learnt so much just from one day. Can you imagine how much knowledge I can engulf myself in if I continue to do something new like this each day! (Sorry for the unnecessary excitement but I have a new found love for learning- I know GEEK alert.)
Can't wait to get my bike next week and I can wear my fancy bib and accessories that they're passing to me too.
"If you don't ask, the answer will always be no."
What I've learnt is that, there will always be people out there willing to help. The only way to find these people is to be honest with what you're doing. xx