05 May

EMPOWERMENT

My word of the year.

I have to say I am deeply touched by the stories that the women have shared for my giveaway. Interestingly, I was able to resonate with all the stories that were submitted. The stories of these women facing injuries, having to go through the challenges of workout plateaus and frustrating weight loss techniques- all the stories I read made me think to myself, "omg, I've been there." not in a "I've been there, done that" sassy kind of way but more like a OMG, I KNOW EXACTLY WHAT YOU'RE GOING THROUGH.

It is so amazing to know that these are your everyday women, your next door neighbor, your colleague, your Facebook friend, these are the women you see everyday, each with their own heroic story to tell, each with their own goals and dreams and just so much dedication. I mean, I train every single day of my life, I push myself to the limits, I get injured and want to get better so I can bloody get back into training because it is what I do. This is my job. But for most of these women, they have a full-time job on their plates, some are full-time mothers on top of that and they are aiming to go for marathons, or sitting on the rowing machine. Like, seriously, any person, male or female, who commit themselves to a full-on workout regime and does it "for fun" or because they want to deserves my utmost respect. Yes, rowing and running and lifting weights is fun but I don't do these crazy things that push my body to the limits "for fun". God, some people are just so crazy, it makes you feel normal. Crazy is good. Crazy makes life more interesting. I do crazy.

I'm not saying these women who shared their stories are crazy. Well, maybe I am. But crazy in a good way. Crazy in a way that when I read their stories, I feel inspired. Crazy in a beautiful amazing way that they all are. I love it.

They have definitely inspired me to stop and think about myself for a bit. Like when I complain about being tired, I know of a woman who works full-time in a bank and comes home to three children and does her 2hours runs after the kids go to bed. If that isn't discipline, I don't know what is. If I'm being whiny about my stupid injuries, some of these women totally lost their ability to run or have to undergo surgeries. I do not deserve to whine.

So, really, thank you to the ladies out there who shared your stories. They are all amazing in their own way and they each inspire me to become a better person. Can you imagine how many other women out there who might be inspired by your stories? Your stories empower others to become better versions of themselves. That's why I encourage sharing your stories. No matter how little you think they are. You'll realize that there's people out there who are cheering you on! You'll never know who you might inspire, just by being who you are and continuing what you do. Most importantly, you have to own it. Own your story. Own that bloody dream of yours and go out there and get it.

So here are the two stories I have chosen:

1.

Syafawati AbdullahHere goes, my story.

It started with being happy in a relationship and I started gaining and gaining till I started getting frequent chest pains and shortness of breath. Shortly came the bad break up. I hardly eat and I only smoke which makes the chest pain worst and just by walking i can get breathless.

Till one day, near end of 2014, I decided to lose weight and get healthy. The quote that kept me going was "turn pain into greatness" because yes, I was in pain, emotional pain and chest pains.
???? I basically needed a change.
I have always been overweight. Believe me, I tried losing weight countless times but failed everytime. I realise in the past I wanted to lose weight for the wrong reasons. It was for reasons like because i'm tired of people making fun of me or I thought if I lose weight than I will be loved by others or look beautiful.
When I started my weightloss journey it was all about the weighing scale but slowly it become about self discovery and trying out new things. I started with doing yoga and running than I did circuit and weight training at the gym than I moved on to muay thai which I love. I will always have a love hate relationship with running but I will never stop trying. Due to unforseen circumstances I had to stop gym and muay thai. I won't let that stop me from working out. I am currently doing a 30 day bodyweight workouts. I want to see what changes it will have on my body and also to tell myself that I can still workout even without having any personal trainers.
Its no longer just a weightloss journey but I want to make health and fitness part of my lifestyle. I've never felt better about myself and my body till now. I'm amazed at how far I've come. Thanks to all the support that I received too, throughout the years.
????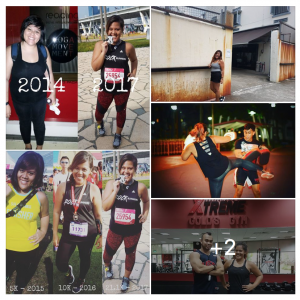 2. Cheekin Nyet
Marathons, on-tracks, off-tracks, vertical challenge, and anything got to do with running. That's my passion. It is also a responsibility to complete my IPPT every year as I'm in the Singapore Police Force.
My goal is to get back to running again, to clock mileage, and to complete full marathons.
My day got dark when I torn my ACL in October 2016. I went for an ACL reconstruction surgery on my left knee 10 days ago, and I'm excited to recover and to start training again.
It is important to achieve my goal as I want to inspire my fellow women colleagues and prove to the ladies out there that "fit is the new sexy" (not just slim). ☺️
In order to achieve my goal, I have to first recover! And during this period, I need to be very disciplined in my food intake. After 9 months of recuperating and physiotherapy, I will come back stronger.
Ps. Especially with my new giveaway gift from @ariesyah ????????.
#aclsurgery #aclrecovery#aclreconstruction #teamaisyah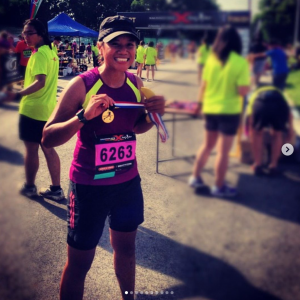 YAYYYYY CAN'T WAIT TO GO SHOPPING FOR THEM <3
xx