20 Apr

Being 28 and awesome.

As much as I don't wanna turn 29, 20th April is going to come and go, just like any other day. So instead of brooding about being old and useless, I'm going to recall the worst and best moments about being 28.

So the first major thing that happened when I turned 28 last year was that I qualified for Rio. I didn't had any birthday cakes, no birthday dinner, no birthday presents, no family around me, just my coach and a few other athletes and coaches who passed by me on that day wishing me happy birthday. I was very proud to have made my own birthday sandwich: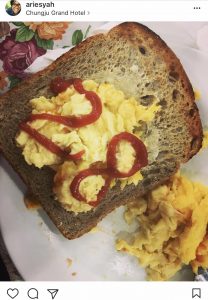 It was the same thing we ate every single day when I was in Korea and I remembered clearly: a slice of toast and scrambled eggs with ketchup. EVERY DAY for a whole week.
I raced the most important race of my life and felt like I was going to die at the end of the race. After 12 years of racing, I finally understood how racing is done.
And then, the Olympics things sort of took over my life. I spent months living in cloud 9 because I couldn't believe that I actually made it. The first few weeks after I've qualified, I kept talking about it on my social media and later an Olympic hopeful who didn't quite make it to Rio came to me to tell me that my posts were just trying to rub salt on her wounds. I felt bad about it at first but she went on to say that she could have beaten me and qualified instead if the qualifiers were a month later, and I don't feel so bad anymore. HAHA. Anyway, the whole experience just seemed so surreal.
I am the first rower from Singapore to qualify for the Olympic Games. And no one can ever take that away from me.
However, as much as you would think that I enjoy basking in the limelight, I don't. Dealing with the media is absolutely tiring especially because I didn't had a team manager, a manager of any sort, and the association wasn't very helpful in lifting the burden off my shoulders. Maybe it's my fault that I didn't ask for help but I didn't like "troubling" others, which soon I realized that sometimes, people want to help and it is okay to reach out for help.
I was back in Singapore for a mere 50hrs before flying off to UK for a series of races, I had to do a back-to-back interview which lasted from the moment I finished training at 9am all the way till 4pm. It was during the fasting month and the journalists were asking the same questions over and over and over again and each of them had me doing different things like rowing this way and that way and posing like this or sitting in this chair or standing next to this boat. OMG. I didn't enjoy that at all but I knew that I had to do it.
I was awarded the SpexScholarship from the Singapore Sports Institute which was a pretty big deal because it really took that huge financial burden off my shoulders which made a whole lot of difference to my trainings because I didn't had to worry if I would have money to buy groceries anymore (OMG- I still cannot believe that happened!).
I signed on a contract with Herbalife but got dropped by Under Armour. It sucked being told that you're not in the right sport to be an ambassador of a brand because it is definitely not my fault that Rowing isn't as popular as Swimming or Track but my partnership with UA was awesome while it lasted. It has taught me to be grateful and most importantly, even if something doesn't work out, never burn the bridges. When one door closes, another will open. Now, Asics is sponsoring my training gear and shoes.
Patience and hard work- two things I cannot emphasise on more if you want to be where you want to be.
4Fingers came on board and supported my journey as well. I thought that was pretty cool because they have such great people in there and I cannot thank them enough.
I met a few amazing people in my post-qualifiers journey- some of whom are so amazing that when they met me they told me that they couldn't believe that I actually qualified and I thanked them for their honesty.
Towards the end of the year, I had to make a very important decision which was to return to Sydney to train or explore another city to train in and I made my mind to train in Philly for 2 months which was awesome- scary, but awesome. Scary because I knew absolutely noone when I was there and spent a few weeks crying because I felt so alone. But at the end of my trip, I didn't want to go home.
Making that decision was tough and it took me a long time to consider my options but when I finally made up my mind and committed to it, it felt like a huge rock has been lifted off my shoulders.
And early this year, I suddenly became the person I was most afraid to become but it made me realized how important it was for me to find the Aisyah without all the rowing. At the end of the day, no matter how much rowing has been part of my life, I must remember that I am Aisyah first, rower second. At 28, I gained the wisdom of a Yoda.
I later realised that there is no such thing as a bad decision because even bad choices will lead to a path that will lead us to eternal lessons of life. #win
And then of course, I dislocated my shoulder and spent the next 2 months feeling sorry for myself. I won't be surprised if the amount of cycling I've done in the period of 8 weeks is more than what I've cycled for my entire life.
So here I am, lying down in my room, recalling how crazy my year has been and how awesome it was to be 28 knowing that I've done plenty of things many 28 year olds wouldn't have done. So grateful that I've lived for 28 years being a healthy and strong person and having a life that only I can call my own. Even though I pretend like I'm not worried that I'm still single at 28 and far from getting married or having children, I'm more worried about turning a year older and not being the best version of myself.
So here's to another year of being amazing.
And lastly, at 28, my face was on a double-decker bus, which I will always remember for the rest of my life.
I also took an alpaca for a walk.
So much win at life, only if you allow life to happen.
My life is fulfilled, almost.
x