21 Mar

A chance of protein balls and shower

The weather in Sydney has been really sticky and wet recently. Mucky, with random bleeps of sunshine, uncomfortable, nothing you'd wake up to and tell your friends that it's a beautiful morning cuz it isn't. But hey, I am not complaining because rain or shine, I have the bike literally seconds away from my bed. I still train even when there's a flash flood outside, no excuses. Spending ALOT of time at home has also made me experimental.

Recently, I've been addicted in making various versions of protein balls. I reckon they're pretty easy to make and so easy to pack for snacks. They're also packed with the good bits that I need to meet my daily nutrients needs.

I'd eat a few balls (2-3) in the morning before I train, otherwise they make good post-workout snacks as well. Even in the middle of the day, when I feel like munching on something, I'd go for a ball. They really do fill you up!

So I got the basic recipe from thehealthymaven.com and I've added bits and pieces of my own ingredients just for variety. Here's the recipe found on the website:

Ingredients
1 1/2 cups rolled oats
1/2 cup vanilla whey protein powder (about 2 scoops)
1/2 tsp cinnamon
1 T chia seeds
1/2 cup smooth natural peanut butter (or any nut butter)*
3 T natural honey
1 tsp vanilla extract
1/3 cup raisins, chocolate chips, craisins or preferred add-in
2-4 T liquid (almond milk, milk, water etc…)
Instructions
Add oats, protein powder, cinnamon and chia seeds to a large bowl.
Add in peanut butter, honey and vanilla extract. Stir to combine.
Add in raisins (or preferred add-in). Mixture should be slightly sticky but still crumbly.
Slowly add in liquid 1 tablespoon at a time and using hands (get dirty!) combine until it comes together in a sticky ball that holds together. If mixture is too dry, add in more liquid but not so much that it won't hold shape.
Roll into balls using hands.
Place in a container to set in the fridge for at least 30 minutes.
Store in fridge until ready to eat.
So I used my Herbalife powder for this: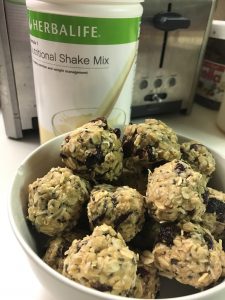 The Formula 1 Nutritional Shake in French Vanilla
Other ingredients I included or exchanged with some of the original ingredients were:
-added in a cup of shredded coconut
-tried sunflower seed spread (as an alternative to peanut butter) for the nut-free option
–cranberries goes so well with the oats
–soy milk instead of milk for those who are lactose-intolerant
-sometimes I would mix 1/2 cup of cocoa powder to make a chocolatey version
-and Herbalife24 Rebuild Strength/ Endurance powder instead of my Formula 1 Herbalife shake just for an added boost of protein
A thing of two about the Herbalife Formula 1 shake that I use is that it contains pretty solid stuff in there that I found out is actually good for my recovery stage (i.e. shoulder dislocation drama, remember?)
So the F1 actually contains:
Copper: which assists blood cells formation (also can be found in sesame, pumpkin and sunflower seeds)
Vitamin A & C: which helps in wound healing, tissue repair and boosts the immune functions of the body
and Zinc: provides energy and antioxidants (also can be found in meat and seeds)
So yea, I thought it'll be good for me to share the good stuff. Go give those balls a try! 🙂
x