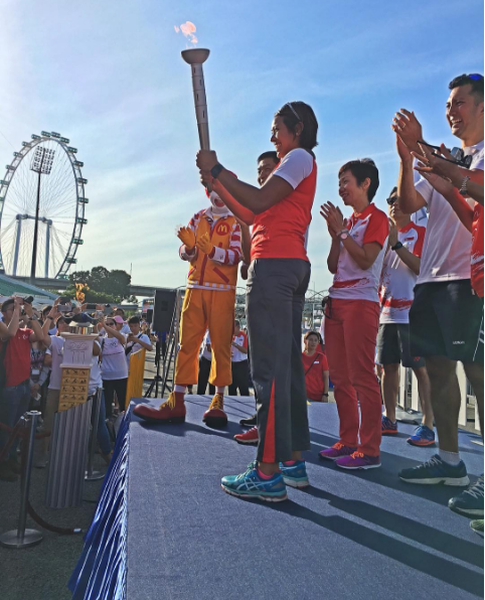 18 Jul

carpe diem

I am currently in New York now. 3.5hrs North of New York City, 3hrs South of Montreal, Canada to be exact. Nowhere new NYC, nowhere near the concrete jungles where dreams are made of, where there's nothing you can't do. HAHA. I'm here at Saratoga Springs to acclimatize to the dodgy American time zone. Dodgy just because it seems so weird to be on the other side of the world where I am 14 hours behind Sydney, 12 hours behind Singapore and Saturday's not over yet but it's midday on Sunday in Sydney and Singapore. Dodgy because when I flew out of Sydney on Friday morning at 9:50am, we took 13hours to get to LA we reached LA on Friday morning at 9:30am and it's like WHAT THE HELL IS GOING ON IT IS FRIDAY MORNING AGAIN. It feels like groundhog day. It feels like my brain is fried from all the flying and waking up to eat and sleeping some more. And when we reached LA we had to take a connecting flight to New York and finally reached NY at 7:40pm and had to drive 4hours +++ to Saratoga in the Friday night traffic which was so much WEW! And AB said I shouldn't sleep too much cuz I might not sleep at night but I swear I was trying my best to not fall asleep but ended up sleeping almost the whole of the drive. And had no problems sleeping at night. OMG. I am such a sloth.

Yes, dodgy American time zone for you there.

We have decided to come to this part of the world for this reason that I'm not very good at battling jetlag and flying tires the coconuts out of me. So we want to be here as early as we could so by the time it's game time I am ready to go! I'm flying to Rio at the end of the month and it is only a 2hrs time difference from NY to Rio so I reckon that is OKAY. It is like Sydney and Singapore.

Anyway, it is my first time in the States and I didn't really believed Google when it told me that it is going to be hot in Saratoga but oh boy, it is hot! It was 30 degrees today but the cool breeze from the lake makes being under the sun bearable but the sun was so bright, not wearing shades will probably give you a massive headache from all the squinting! I never imagined it to be like this but it was such a perfect rowing and running weather. LOVE IT.

So I'm staying with this group of girls from Saratoga Rowing Club, some of which are trying out for the USA U23 Team, which tells you how young they are (not surprising because I am always considered old wherever I go and am already used to it, so no point being so worked up over my age anymore. I am 24. Since 2012). Very nice bunch of girls- totally different from the girls I train with at Mosman. It is very interesting to meet the different types of female rowers around the world. So I've met the Asians (of course), the Australians, the Pacific islanders, trained a fair bit with some British rowers and now Americans. The best thing about meeting these different breeds of rowers is that whether we're white, brown or black, tall, short or strong, we choose to sleep early instead of partying our nights away. We choose to wake up early in the morning to put our bodies under so much stress and pain, tear the lives out of our palms and spend our afternoons hitting the gym instead of hitting the mall. It makes you feel normal (i.e. warm and safe) knowing that there are other girls out there who are as crazy over rowing as you are. There is a certain pleasure in knowing that.

Had my first row on water today, trying my best to not get caught in the weed and manoeuvring around the people on stand up paddle boards. Water traffic got worse towards the late morning with lots of fishermen and jetskiers claiming their spots on the lake. A usual scene we get in Mosman, Sydney. So, I wasn't surprised by that. But Lake Saratoga is beautiful. That, I am impressed.

It is less than a month away from the opening ceremony of the Olympic Games. I was in Singapore last week to lead the Olympic Day Run. What an honour, I must say. But have you seen how lost I looked? And the fact that trackpants and Aisyah just don't go along together? Oh man. I remember those secondary school days when we had sleepover camps in school and one of the items in the packing list is trackpants and I can never find a pair of trackpants that make me look cool. I was never a cool kid anyway.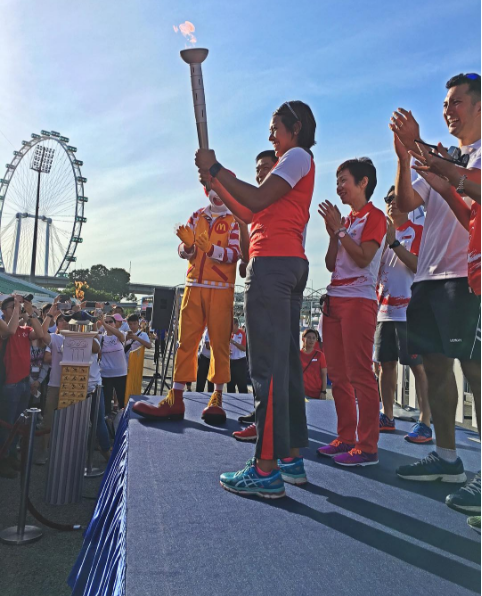 Anyway, it was supposed to be a walk (I think) but the guy who was accompanying me (because he was worried I couldn't carry a torch while running) suggested that we should run and yes, we ended up running that 3.2km distance. Finished the loop around the Marina Bay area sweating like a banana.
The trip back home was short and sweet. It was just nice that it coincided with Hari Raya. I love it when people asked me, do you still train during Hari Raya?
The only holiday we get is the day after the Olympics.
And probably the Christmas period.
Apart from getting to spend time with the family, being very disciplined (very impressed with myself!) about not over consuming the Hari Raya goodies and delicacies, and being a torch bearer, I had the opportunity to be officially introduced to the Herbalife family too. The whole experience of signing my autograph and getting my photos taken everywhere was cray cray but I love to meet people who are enthusiastic and passionate about what they do. The best thing about being part of the Herbalife family is that they made sure I tried the products first before being an ambassador and here's the truth- I did consume their products very diligently (again, very impressed with myself!) prior to my qualifiers, and have been using them ever since. Although some of the products I used were from the Herbalife24 range which has not been launched in Singapore, I did consume some of the general lifestyle range too. I have to say I am a Herbalife convert. (I wish I am being paid to put this post, but I'm not.) I did get a chance to share with the team about how the products have improved my training, and especially in my recovery.
"Stop waiting for Friday, for summer, for someone to fall in love with you, for life. Happiness is achieved when you stop waiting for it and make the most of the moment you are in now."
SEIZE THE MOMENT, PEOPLE.
And you know you win in life when you have your face on a double-decker bus. HAHAHA.
x