30 Jan

What Doesn't Kill You Makes You Stronger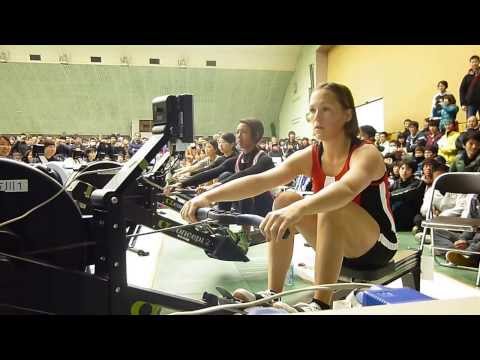 In my ten years of rowing, I've never met a rower who has ever said, "I love the ergo."
I truly believe that anyone who has never done a 2k erg test, has never felt what's it like to die painfully.
This is so not helping me get people to join rowing.
HAHAHA.
Okay, thing is, the erg does make you stronger, and you get to gauge your fitness level with the 2k test results. And it is important for a rower to erg once in a while and sit for the test but of course being good on the erg does not mean you are a good rower. And when you finish a hard training on the erg, you can feel the benefits almost immediately. You feel like you've accomplished a huge thing in life, and you get a good night sleep.
A week ago, I participated in the Japan Machine Rowing Championship held in Kyoto. I was sort of invited for it, and furthermore I made a deal with my coach that if I were to win Gold, I would go for it. I did stick to my words, even when I wasn't at my best condition to travel or compete. But I certainly didn't regret my decision to go. It was one of the most memorable trips in my rowing career.
I had a fever the day I reached Japan. Being a smart-ass, I went to the local pharmacy on my own and bought a medication for my illness. Turned out that I was allergic to the drug and had swollen eyes the very night I took the meds. I had to visit the doctor and had a hard time trying to explain to the doctor what happened to my eyes. Thankfully, my Japanese coach who is in Singapore was kind enough to do a translation for me over the phone. Thinking about it now makes me wonder how much my hp bills will cost!!! 🙁
Also, the doctor prescribed me with some medications that were illegal for athletes so I couldn't consume them anyway. A series of unfortunate events!
But thankfully, the swelling reduced the next day, which was competition day *gasps*
On race day, it snowed.
As it was my first time seeing snow, I thought that was worth to mention.
LOL.
I was pretty nervous for the race firstly because I just recovered from a fever and alien-eyes-syndrome. Secondly, it's a race- you ought to get nervous for it. Haha. But the last 2k erg test I took was more than a year ago and I've never really participated in an ergo competition overseas so that was a first too. I didn't had any pre-race rituals planned. In fact, I didn't had any race strategy as well. Ahh, biggest mistake any athlete can make! Going for a competition without proper preparation! Boo! I was too sick to have a plan, I thought I should just "go with it". (Note: This is a terrible excuse! And a totally poor example of an athlete! haha!)
There was a mini-introduction section right before the race where the emcee introduced each of us. There were 10 women in my race. The Danish rower on my right is an Olympian. In fact she came in 4th in the London Olympics in the Women's Lightweight Double Sculls. The rest of the field was made up by the top women rowers in the respective Japanese clubs. There was a mix of lightweight and open category ladies. Thankfully, despite a sharp increase in my weight after the SEA Games, I still managed to meet the lightweight category. Phew!
I don't remember much of the race other than I started pretty well and halfway my mind shut down. When I get tired, I often go into this zone where I stop thinking. Nothing will go through my head and I will not remember what happened. And that was exactly what happened. I remembered leading for a little while for the first 1000m and then the Japanese girl caught up and I have no idea what rate I was going, what speed I went, I just went blank. It was as though I was just going through the motion- moving my legs up and down the slide, straightening and bending my arms. NOT GOOD.
And then suddenly my mind flicks back into reality and I realised I had 500m more to go. That was when I started to pick up my strokes but the Danish rower and the Japanese rower were already ahead of me. GAAAH.
I finished the race with my legs numb-not as numb as the day I won the SEA Games though, that was worse. HAHA. My throat was burning, my lungs felt like they were on fire. The cold and dry air and the stuff coming out from my nose (the cold weather was making my runny nose like permanent) weren't helping. My time was 7:27mins. I was third behind the Japanese rower from Denso Corp. and the Danish rower. I did not manage to beat my PB but I wasn't disappointed (my coach would be totally outraged, though, but he wasn't there-oops!). I felt like it was quite an achievement to be 2seconds away from my PB with my health not at its best and with my poor preparation to be blamed. I felt that I did okay and was even quite proud of myself after I found out that I was the fastest in the Lightweight Category. YAYNESS!
But of course, there is plenty of room for improvement. Like my coach always says, "You need to train harder." I will, my dear coach. I will.
—
There's a Machine Rowing Trials for the National Team this 8 February at the National Training Centre, 249 Jalan Buroh. Anyone who is physically fit and interested to try out for the rowing national team is invited to give it a try. Or if you want to know what it feels like to erg for 2k, come down and have a go. It'll be fun (FUN? HAHAHAHA) okay, I won't lie. It'll be painful, but it'll be nice to know how fit you are and how you stand amongst the national rowers.
I'll post up more details soon. Meanwhile, start erging!